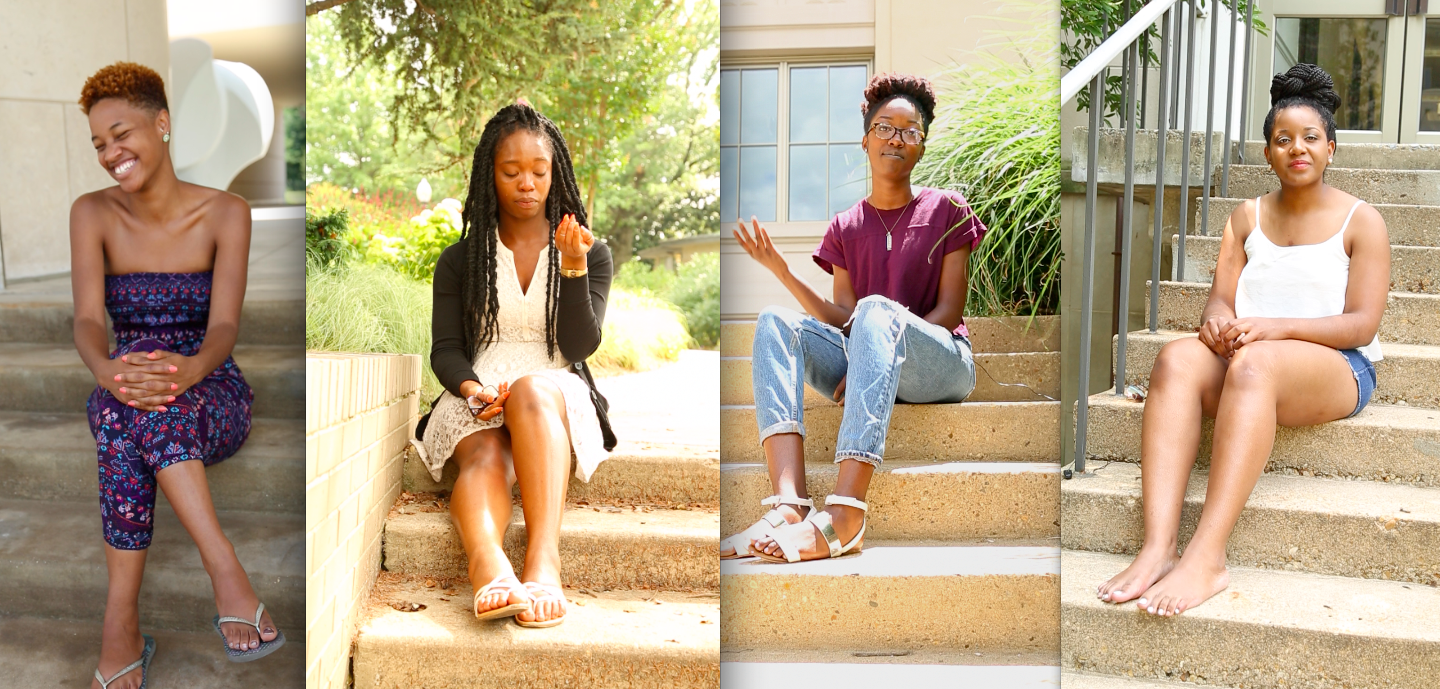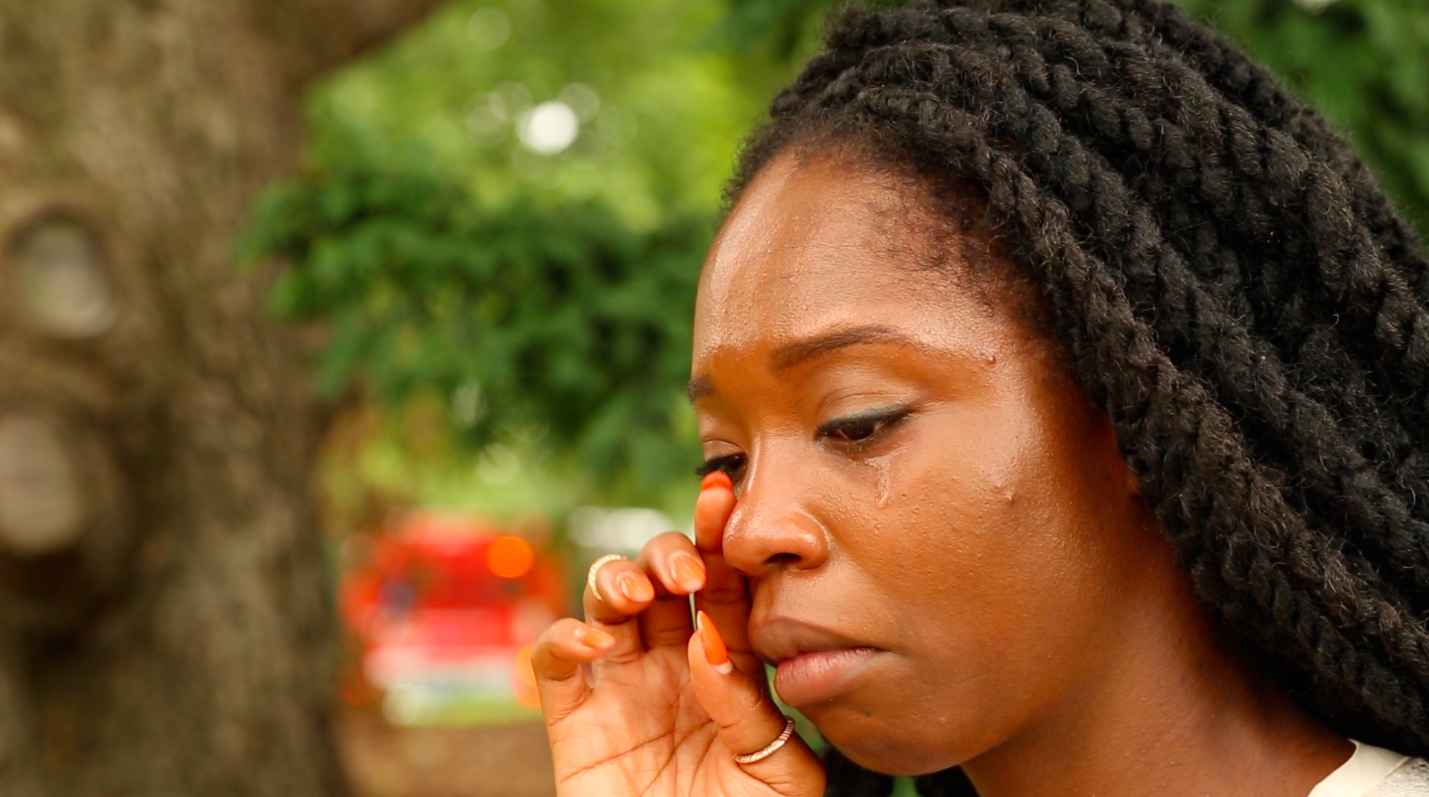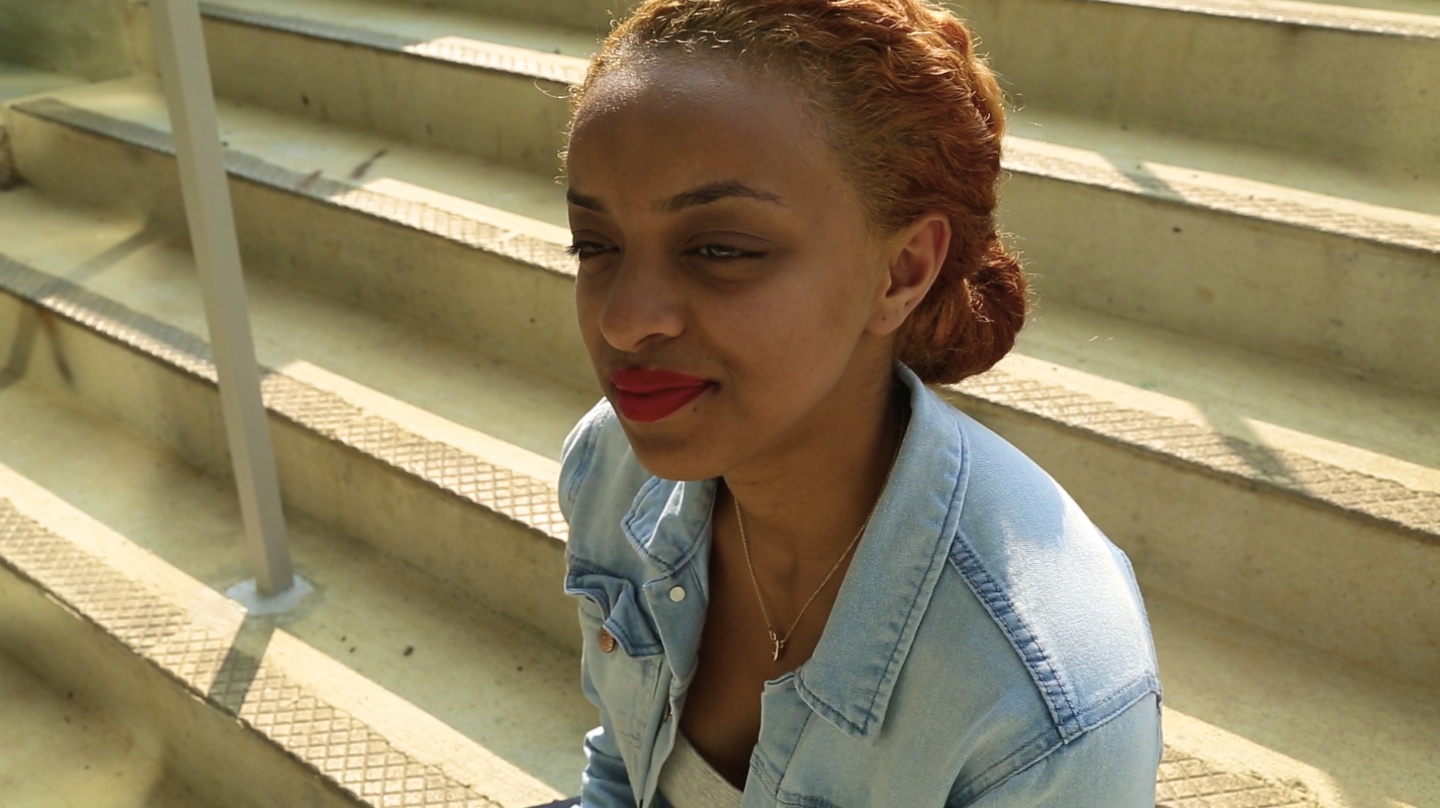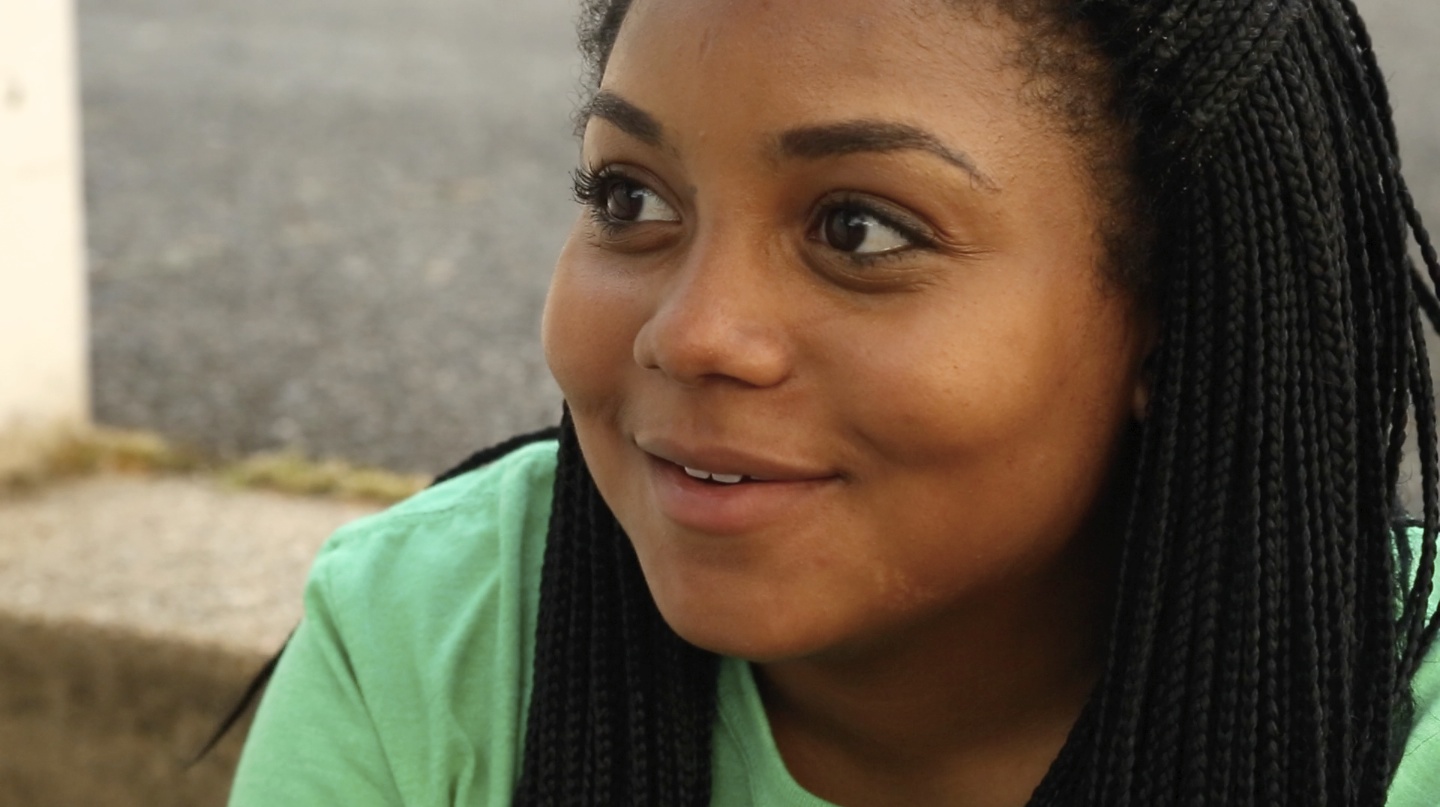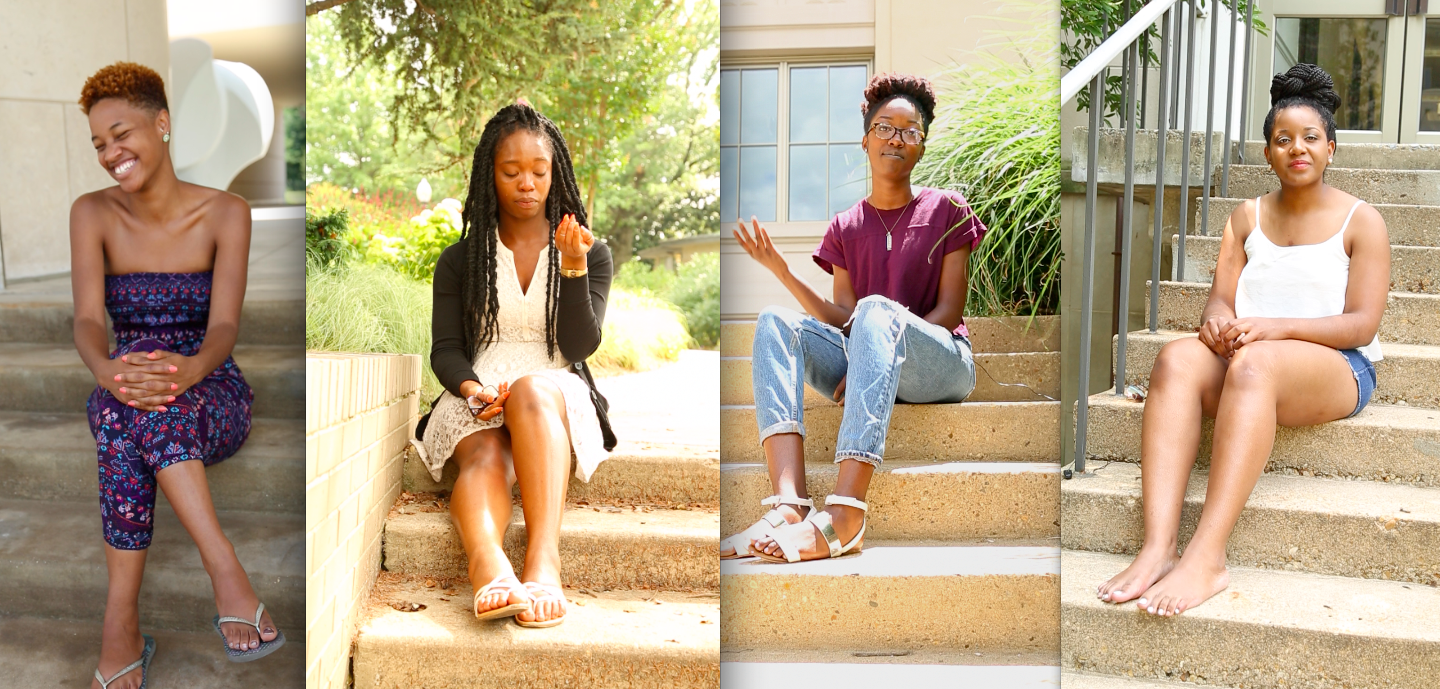 Transitions
Transitions is a video project documenting stories of personal evolution. Starting with one subject, the project has grown as each interviewee invites the next person to be interviewed.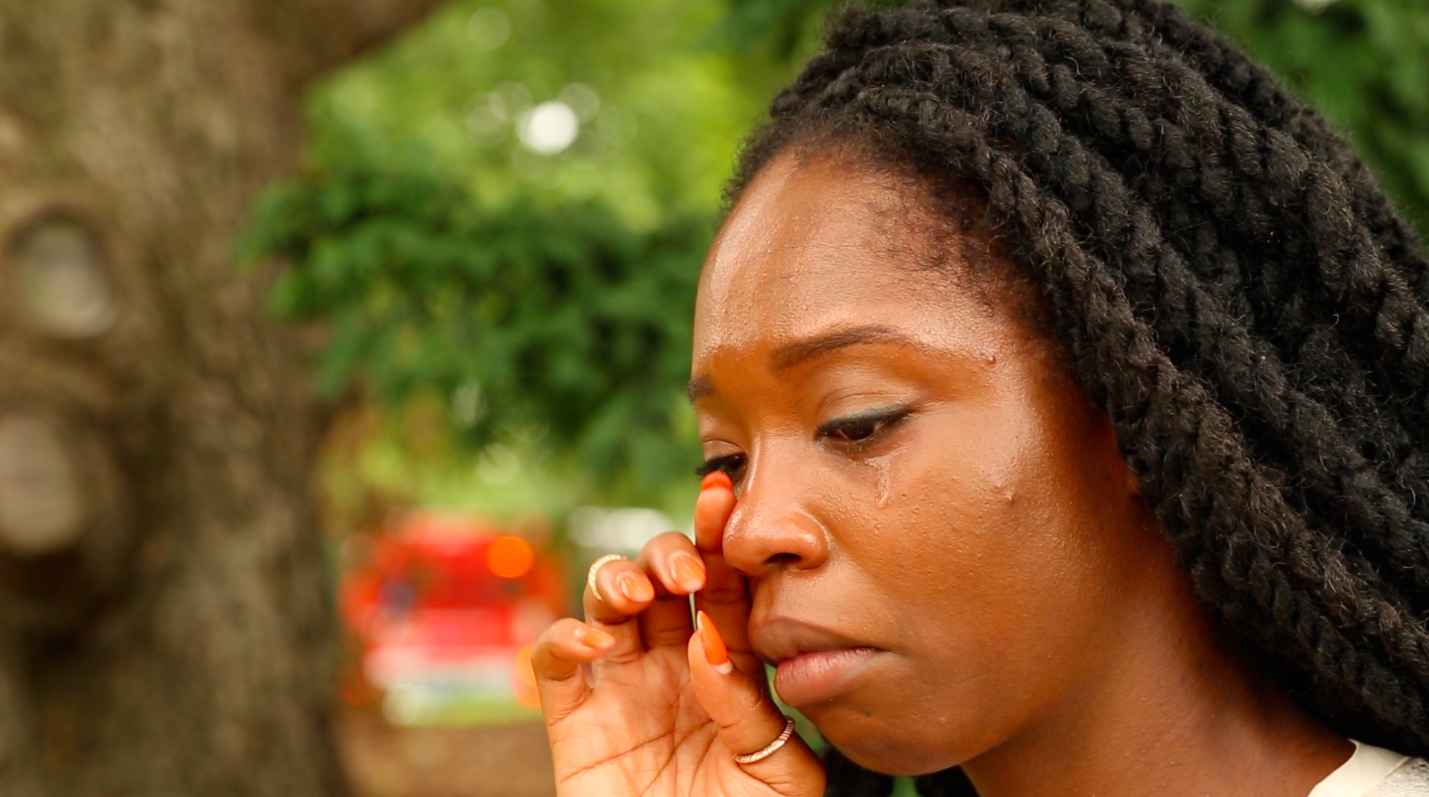 Uchechi
" I really can't imagine her wanting to kill herself. I don't know. It was just a really bad accident. But then again, you have to look at it for what it was and what the exact story was. She wanted to hurt herself. She wanted to kill herself…I don't know…".
Transitions , 2014
Video, Color/Sound
Total Running Time: 10 min
Video Still
Afrea
"If nobody knows you, who are you? You create your own 'you' in that instance…no one knew who I was in the past or anything I had done. So they only knew me from that moment forward. Everybody needs to be able to redefine themselves because life isn't stagnant. It moves along and it changes. As you grow you want to find out who you are and what you want to do. If everyone perceives you a certain way, you don't think you can do certain things."
-Fre
Transitions , 2014
Video, Color/Sound
Total Running Time: 10 minutes
Video Still
Ebony
" I felt like I just did not know what I was doing and where I was going. I feel like its really important to have stuff in order and I just felt like I was in disarray."
-Ebony
Transitions, 2014
Video, Color/Sound
2014
Deveney
"Of the idea, I knew she was not going to accept it. But of me, I knew she would love me.
We were on our way to the airport and I kind of just blurted it out. I never really shared a lot of my life with her about it before. And so I told her and of course she was shocked and then upset. But she talked to me about it some more.. and I felt like this is where I want to be. I'm happy with myself. My mom is okay with me, she still loves me.
I think that in that moment that was probably the most I ever felt like myself."
-Deveney
Transitions, 2014
Video, Color/Sound
2014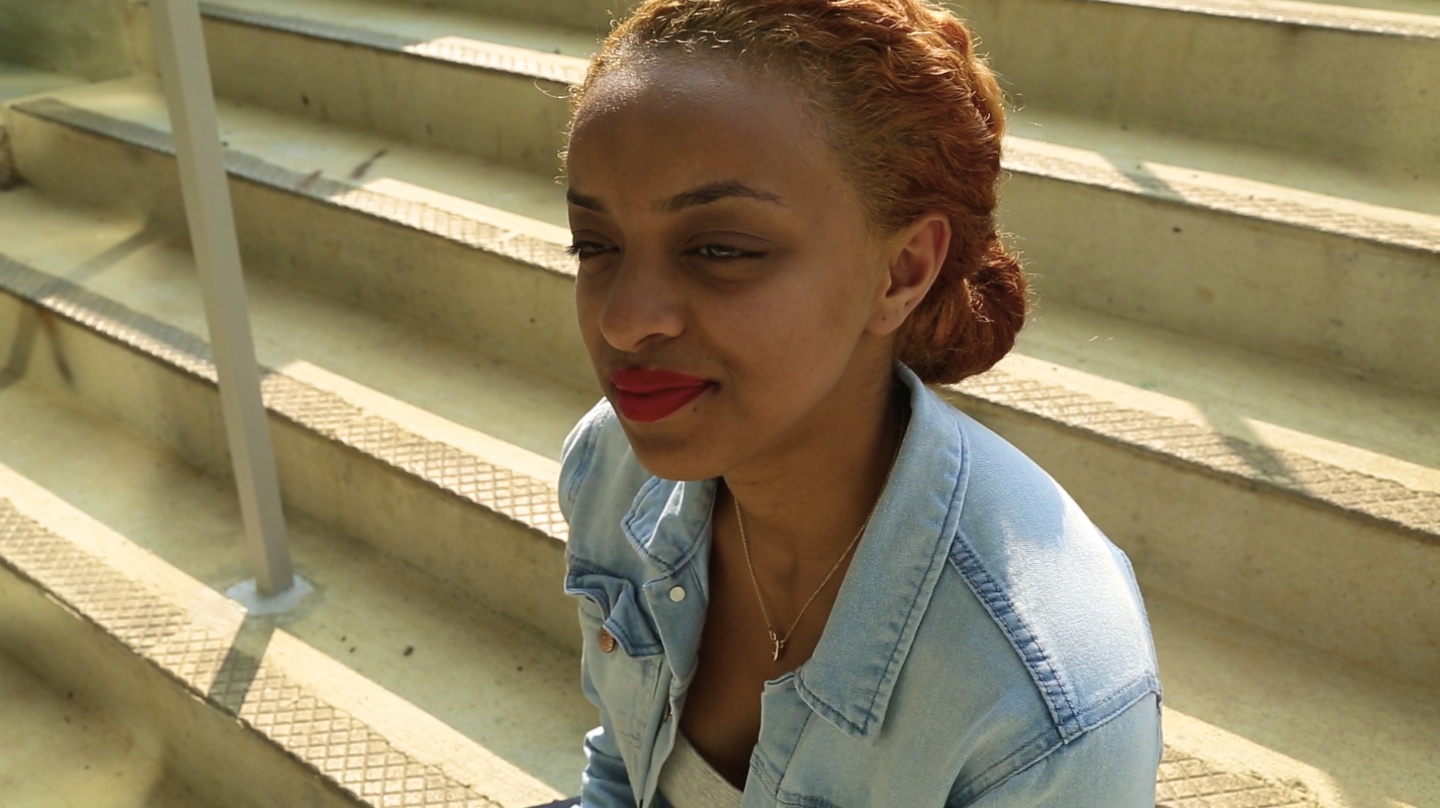 Mekdes
"I mean I grew up knowing I was Ethiopian, but I was kind of ashamed of it. I was always like 'Ugh- I'm Ethopian, Im African.' You look on TV and it's like Africans being poor and sick and dirty. And my young mind was like, 'I don't want to be associated with that.' But when it came to going there and realizing I had roots (my entire family is from Ethiopia), it had me shedding tears. It just instilled in me- that I am Ethiopian. And I need to be proud of it. Instead of me needing to... I wanted to be. I was proud to be something other than American, which I never felt growing up. "
-Mekdes
Transitions, 2014
Video, Color/Sound
2014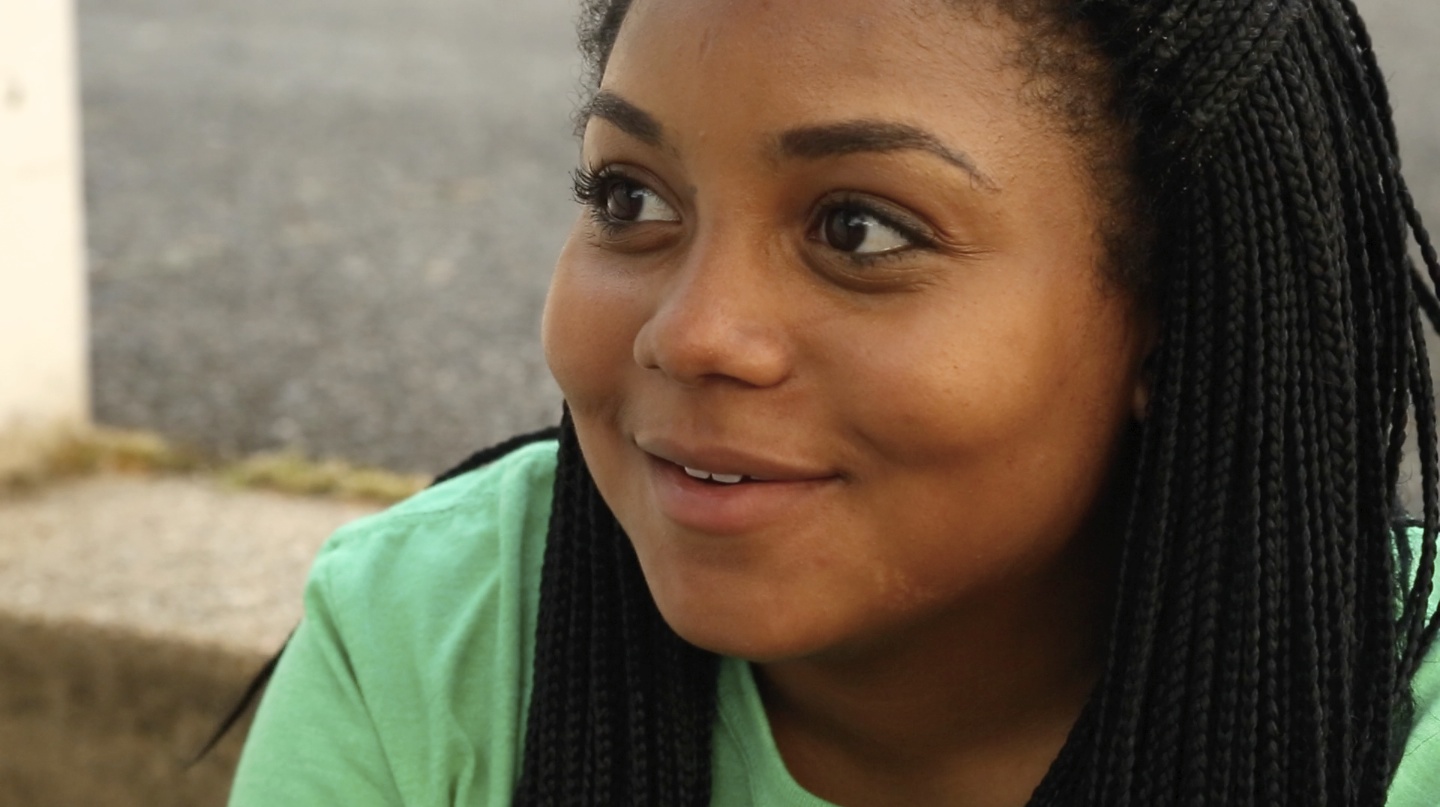 Mariama
"I went to Morocco and I traveled throughout the capital and to a bunch of small towns. I did a home-stay for two weeks in a small town called Oulmes. I was with them for two weeks so I was living the way they were living. I took showers with a kettle of hot water and a pail of cold water. I ate everything they ate.
The juxtaposition of my life to my 12 year old host-sisters life, who walked 2 miles to school everyday by herself, and then walked back. It just makes you reexamine everything. They were happy all of the time. Always so positive.
I was just a teenager; a 16 year old who was sulky all the time. I didn't want to go to school and do a lot of work. I was always kind of rude to my mom. As soon as I got back, I hugged my mom and I said 'I love you. I've missed you so much and I'm going to try harder.' And that's what I did. I went to school and I started working harder and got better grades and everything improved. It made me feel a lot more grounded in myself. It made me grow up."
-Mariama
Transitions, 2014
Video, Color/Sound
2014
Akira
"It's the little moments that you realize that no-one is talking to you, no-one is looking at you, but you're sitting in a group of people. Just realizing that you aren't apart of the joke. Little things like that would eat away at me…it was just the little things. I got up from where I was sitting…,and I just didn't talk to her ever again.
Walking away from that friendship has been a defining point in my life. It taught me.. It's okay to be alone. "
-Akira
Transitions, 2014
Video, Color/Sound
2014
Jennifer
"I thought I was having a mental breakdown because I didn't know I had had a concussion.
I remember being on the phone with my mom and saying 'I don't know how to say this, but I think I might be going crazy or something. I can't think straight.' Eventually I got diagnosed with Post-concussion syndrome. When I went home, I felt like a failure…I was really depressed…like it was something I should be pushing through. I think when you don't physically see something happening you just see the person talking- that person is just complaining. 'I don't see anything wrong with her.' There are a lot of emotions that come with it. There is also a lot of pressure to just stop talking and act normal."
[After having gone home] I started volunteering with refugees. I was helping a 45 yr. old woman from Somalia who couldn't write any of the alphabet and couldn't read or write in her own language. And I was teaching her to speak English. The fact that she is sitting there and she's laughing and so joyful it's like 'Oh my God, you've spent 15 years in a camp. You've buried 3 of your sons.'
You see that you can get through it. It taught me resilience and living in the moment."
-Jennifer
Transitions, 2014
Video, Color/Sound
2014
Erica
"Once I let it go somewhat..(I'm still in the process of totally letting go),..it's actually really freeing. You think that when you go away from something that's been so close to you, that you would feel trapped and alone. But it's the happiest I've felt in a very long time. I finally feel free, accepted, like I actually accomplished something that I couldn't [before]. "
-Erica
Transitions, 2014
Video, Color/Sound
2014